Today I am proud to introduce my latest app, Sunrise.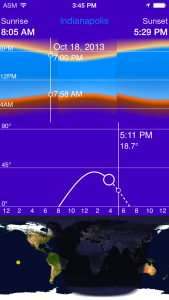 Sunrise presents key information about the brightest star in our sky: the sun. With Sunrise, you can:
Get sun rise and set times for your current location and anywhere in the world.
See the sun's elevation above the horizon throughout the day.
Explore how the Earth is lit by the sun at different times of the year.
Sunrise is now available in the App Store. Please check it out!